Preparing for Hurricane Season - What is a storm deductible?
6/16/2021 (Permalink)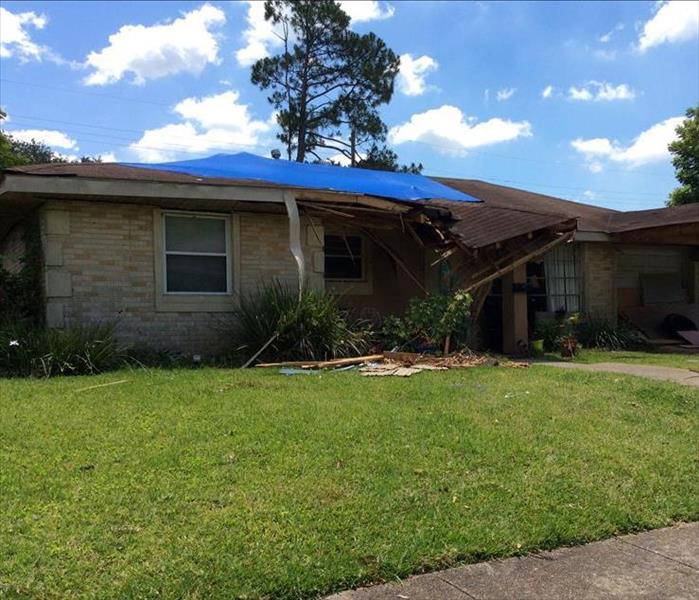 SERVPRO of Greater Covington and Mandeville's emergency response team cleans up and restores properties damaged by storms.
Preparing for hurricane season includes understanding your property and casualty insurance policy benefits and storm deductibles. In Louisiana, insurance policies designate three different deductibles related to wind damage: hurricane, named storm, and windstorm and hail.
A hurricane deductible is triggered when the National Hurricane Center reports a tropical storm has reached hurricane strength, 74mph. Named storm deductibles are activated when a tropical storm reaches winds of 34 mph. Windstorm and hail deductibles can be required for damages caused by any kind of storm, such as tornadoes, hurricanes, or other storms.
Policyholders must pay the required deductible before their insurance carrier will cover the expense of the claim. Storm deductibles are generally more costly than typical homeowner or business owner policy deductibles though. Storm deductibles are expressed as a percentage of the value of the home, usually a value between one percent and five percent. However, storm deductibles for coastal homes may be even higher.
We advise speaking with your insurance agent before you need to file an insurance claim, especially a storm-related claim. Ask your agent what your storm deductibles are. Prepare to have that amount saved. Also, please keep in mind building material costs are substantially higher than normal this year. Ask your insurance agent if your policy will cover actual cash value or replacement cost. Replacement costs may be most beneficial in today's market.
Our team is here to help if your home or business incurs storm damages. We work with all major insurance companies and are we are available 24/7 for emergency services. Please contact our office with any questions regarding storm cleanup or to schedule a service.