October Calendar of Events for the Northshore
10/1/2019 (Permalink)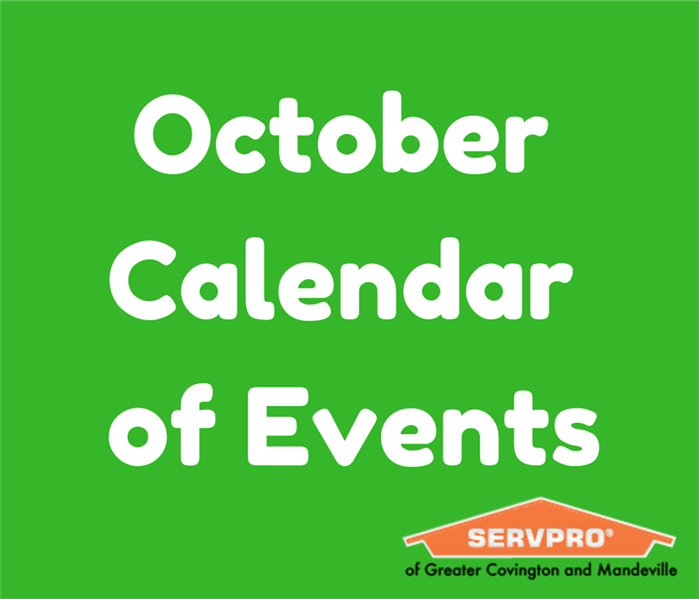 October 1st
Northshore PIA Meeting
October 2nd- 6th
St. Tammany Parish Fair
October 3rd
Rockin' the Rails Concert @ the Covington Trailhead
STPH Foundation The Gala
October 4th
Mandeville Live! News with a Twist Featuring Soul Revival
NHBA Fishing Rodeo
Old Towne Slidell Zombie Crawl
October 5th
Covington Art Market
Octoberfest in Old Towne Slidell
Wicked Wine Run
Work/Play Day at Big Branch Marsh
October 5th – 6th
Louisiana Wildflower Festival
October 10th
Rockin' the Rails Concert @ the Covington Trailhead
October 12th
Fall Festival Arts and Crafts Show @ Coquille Park
Field of Screams
Firehouse Comedy
Jazz'n the Vines
Dew Drop Jazz Hall Concert
Fall for Art
October 12th – 13th
Madisonville Wooden Boat Fesitval
October 17th
Live @ Chenier Concert
Rockin' the Rails @ Covington Trailhead
October 18th
Sunset at the Landing Concert
October 18th – 19th
Festival of the Lake
October 19th
Biketoberfest
Coquille Parks & Rec Movie in the Park
Monster Mash
OXtoberfest
October 19th – 20th
Ozone Songwriter Festival
October 20th
Abita Springs Water Festival
October 24th
Rockin' the Rails @ the Covington Trailhead
October 25th
Columbia Street Halloween Block Party
October 26th
BooFest
Jazz'n the Vine
Lagniappe @ the Landing: Final Concert
Madisonville Battle for the Paddle Gumbo Cookoff
Nightmare on Columbia Street Stroll & Costume Contest
October 26th – 29th
Fall'n for Madisonville Fall Fest
October 31st
Happy Halloween!!!!!!!