Commercial Project Spotlight: Water Loss at Historic Property in New Orleans
4/11/2022 (Permalink)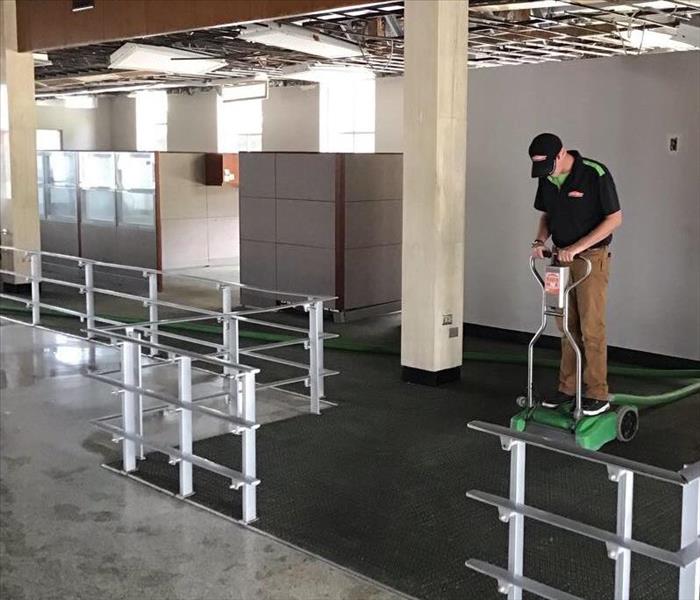 SERVPRO of Greater Covington and Mandeville expertly crafts mitigation plans to suit historic property in New Orleans.
On April 6th, our team received a phone call from a client requesting emergency mitigation services at their historic property in New Orleans. This once vacant building located off St. Charles Avenue is currently undergoing renovations. Upon pulling into the parking lot to start the renovation project for the day, the property owner noticed water flooding out of the front door onto St. Charles Avenue.
Once inside, the property owner discovered the water was spewing from the building's water heater located on the second floor. No one noticed water in the building the previous few days. So, they determined the leak must have occurred overnight. In just a matter of hours, all ten thousand square feet of this property were covered with standing water.
Our water mitigation team quickly sprang into action. First, our project manager assessed damages and communicated a response plan with the property owner. Then, our water mitigation production team utilized our professional extraction equipment to remove all standing water. Next, we strategically placed dehumidifiers and air movers to dry the remaining structure to preloss condition.
For this project, we needed to adapt our drying process because of specific historical features in the structure. If we dried the building too quickly, then certain materials like one-of-a-kind wood paneling could crack and be ruined. However, if we dried the structure too slowly, then secondary damages like microbial growth could occur. Our project managers relied on their decades of experience in the restoration industry to calculate the best plan for a safe, efficient drying process. Each day, our crew returned to monitor progress and make necessary adjustments until the project was completed.
No two jobs are the same in the restoration industry. Each property and disaster present its own unique challenges. Restoration professionals must rely on IICRC industry standards, previous mitigation experiences, and critical problem-solving skills to successfully restore properties. This commercial project spotlight is the perfect example of how our team expertly crafts each mitigation plan to accommodate special circumstances. No disaster is too large or complex for our SERVPRO pros!