3 Common Causes of Commercial Fires and Tips to Prevent Them
6/9/2022 (Permalink)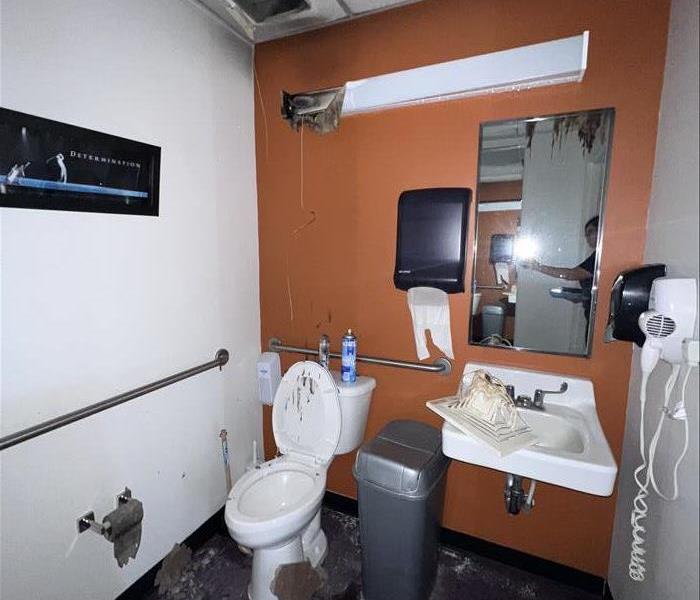 The bathroom lighting fixture caught on fire in this commercial bathroom. This ignited the sprinkler system and caused water damage too.
Owning a business or managing a property requires proper emergency planning. One disaster, such as a fire or hurricane, can seriously interrupt business or even temporarily close the doors. While natural disasters cannot be controlled, most fires are preventable.
According to data collected and analyzed by the National Fire Protection Association, in 2020 there were 111,000 non-residential structure fires across the United States totaling over $3.4 million dollars in property damages. Non-residential structure fires include fires at hotels, motels, restaurants, educational facilities, retail spaces, office buildings, manufacturing facilities, and other commercial properties. Three common causes of these fires were cooking equipment, electrical and lighting equipment, and heating equipment.
Commercial Cooking Equipment Fires
Commercial cooking equipment fires can be caused by the equipment itself not being properly cleaned or maintained. Always hire a professional to perform maintenance and regularly clean grease from kitchen equipment and vents. Commercial cooking fires are also commonly caused by food being left unattended while cooking. Turn off cooking equipment and remove food from the stove before exiting the kitchen. Unplug small kitchen appliances when not in use.
Commercial Electrical and Lighting Equipment Fires
Old or defective wiring, overloaded circuits, and faulty fuses are just some causes of electrical fires. Electrical equipment should be regularly inspected and maintained by a licensed electrician to prevent fires. If a problem is detected, like a faulty outlet or flickering light, the issue should be addressed immediately. Also, surge protectors are helpful, but be mindful not to overload or misuse them.
Commercial Heating Equipment Fires
Commercial heating equipment includes central HVAC units, boilers, water heaters, fireplaces, as well as other heating appliances. All equipment should be regularly inspected and maintained by a professional to avoid overheating problems. Portable heating equipment, such as space heaters, should be not allowed in commercial properties. If space heaters are allowed, then staff must be warned to only plug them directly into outlets and to turn them off and unplug them when unattended. Never plug space heaters into power strips or surge protectors.
As fire damage restoration professionals, SERVPRO of Greater Covington and Mandeville has restored numerous commercial properties following fire disasters as described above. Most fires can be prevented, but accidents do happen. If a fire event has occurred at your commercial property, our fire damage restoration team will make it "Like it never even happened." We will work around your operating schedule to avoid business interruption. Call our office to learn more about our fire damage cleaning and restoration services or to schedule an inspection today.